Get off the beach and onto Lake Michigan with our South Haven boat rentals!
Thanks to Blue Water Boat Rentals, we're proud to offer visitors and locals in South Haven, Michigan excellent boats to rent by the hour, day, or week.
Pontoon boat rentals
Speed boat rentals
Dinghy boat rentals
Jetski rentals
We have rental boats available with capacity of up to 15 people (12 adults).  Treat all of your family and friends to a beautiful day on the lake.
All rented boats are launched from Harbor Club's own Woodland Harbor Marina, located on South Haven's Black River.  The boats have easy access via the River into Lake Michigan.
For the utmost in safety, all rentals include a training session on boat operation and life jackets for all members of the renting party.
Find Out More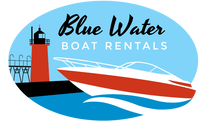 Boat rentals at Harbor Club South Haven are managed by Blue Water Boat Rentals. For more information, call 269-872-3249 or click here.